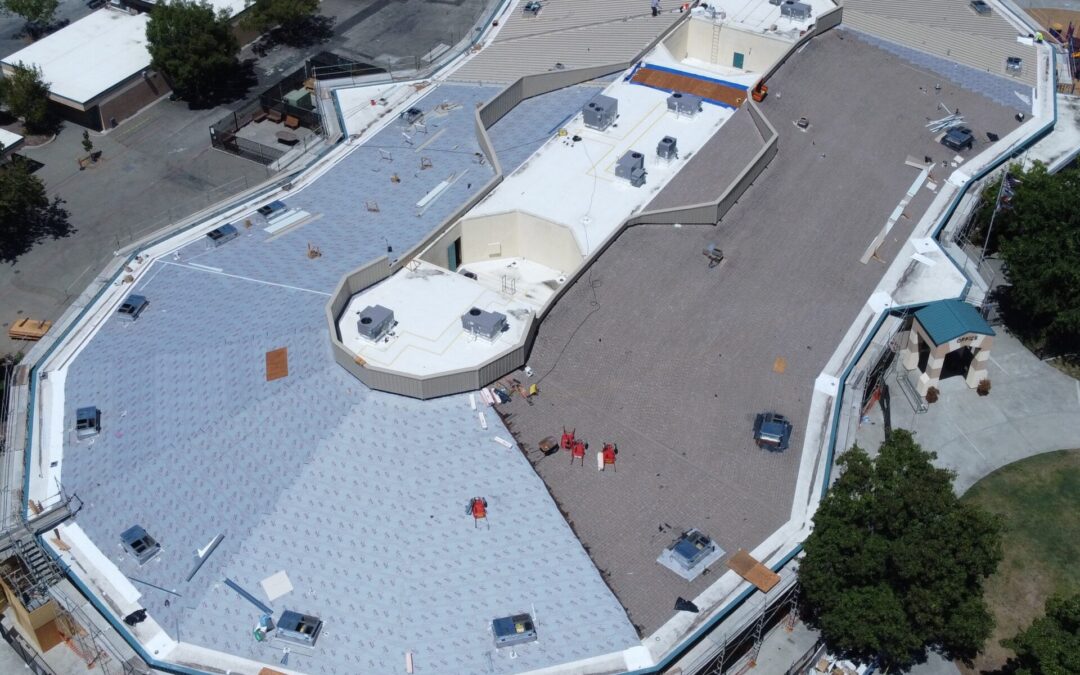 Late August is always an exciting time on K-12 campuses as teachers, staff, students and families prepare for the start of a new school year. But for those of us in school construction, it's the end of a very busy season. We work hard all year round, but summertime is when we really kick things into high gear. We pride ourselves on not disrupting activities on occupied campuses, so once schools begin to empty out in June, we really get going.
The summer of 2022 was certainly no exception. Our fantastic K-12 teams have spent the past couple of months helping to transform schools throughout Northern California. In little more than 60 days, we've completed more than $72 million worth of projects in 11 different districts. That means new and improved classrooms, upgraded equipment, safer learning environments, and more – all to benefit the districts we serve and the kids we're here to support.
To get a sense of what all that effort looks like, we asked team leaders to tell us how they spent the past couple of months.
Pleasanton Unified School District. We were quite busy completing nearly $30 million worth of work in Pleasanton, where we touched 16,320 square feet, including finishing one brand new school. A big piece of our work was completing a $19 million heating, ventilation and air conditioning (HVAC) and roofing project and improving fire alarm systems at six sites. (The accompanying image shows a rooftop at Fairlands Elementary part-way through the replacement process.) VPCS Vice President Eric Van Pelt praises Project Manager (PM) Jenny Choi, who did a great job overseeing the HVAC and roofing effort.
Napa Valley Unified School District. We completed modernizations at two sites in this district (American Canyon Middle School and the Napa Valley Language Academy), completing approximately $16.3 million worth of work across 280,000 square feet. We demoed existing buildings, performed dry rot repairs, painted, installed new HVAC systems, reroofed, made accessibility upgrades, and more. PM Jennifer Kerr worked closely with Arntz Builders and PBK Architects, who helped introduce the district to its first design-build project at American Canyon Middle School and have been great partners throughout the process.
Windsor Unified School District. We kicked off the summer by moving out more than 50 classrooms at two sites, relocating them into 12 temporary portables and 17 brand new classrooms in the new school building that will open in the fall of 2023 (complete with 1200 yards of new concrete poured into its foundation!). We also re-arranged some of the district's campuses to accommodate Windsor's new transitional kindergarten program. PM Brian Cameron says there's been great team coordination among the district, contractors and architects, all of whom have helped deliver this $14 million effort.
Atwater Elementary School District. Twenty-five classrooms were built or modernized across 15,000 square feet, and 15 new HVAC units were installed. Total budget: $4,400,000. Senior PM Mary Ann Duggan says there's a lot of excitement in the local community about these improvements and she wants to say a special thank you to the general contractor, CT Brayton & Sons, who kept things going while managing multiple projects simultaneously.
San Jose Unified School District. VPCS PM Mohammed Mhanna reports that all $4,125,000 worth of 2022 summertime projects in San Jose were completed on time and within budget, in spite of ongoing supply chain hiccups that were out of our control. We worked on a total of approximately 56,000 square feet over the summer season throughout the district and Mohammed says Stronger Building Services really stepped up to the plate.
Berkeley Unified School District. With students away for the summer, our team was able to complete the top-to-bottom $1,040,000 renovation of this district's 1687 square foot culinary classroom. Here, too, supply chain delays have been an issue, but we finally received delivery on all the equipment required to replace the classroom's large appliances. VPCS PM Eduardo Rivera-Garcia praises the team, particularly the superintendent at W.A. Thomas, Inc., whose careful scheduling of subs helped deliver the project on time.
Calistoga Joint Unified School District. In Calistoga, we've been busy with a variety of small projects at numerous sites, for a combined total of $1,000,000 worth of work spread out across 4500 square feet. We tackled plumbing, insulation, flooring, paint, parking lots, classroom conversions, lunch shelters, and more. We even began an upgrade to the district-wide IT system. Project Assistant Melanie Griffiths is extremely proud of the VPCS team and its partners, all of whom pitched into the collaborative effort, doing whatever it took to come through on this multi-faceted assignment.
Cloverdale Unified School District. Our Cloverdale summer season was faster paced than most, as the $300,000 worth of work did not officially get approved until the June school board meeting, so we needed to go into hyperdrive as soon as we got the assignment. Still, that's what we do so we got right to it. We were able to make improvements across 3000 square feet of classroom and campus spaces in time for the return of students and staff. VPCS PM Kevin Little appreciates Wright Contracting's commitment to quality and efficiency, which made this success possible.
Old Adobe Union School District. Here, we were asked to construct two new parking areas for parents and staff and have them ready in time for the August start of the new school year. Things got a little tight when certain required elements came in later than expected, but the team jumped on it as soon as everything was available. VPCS PM Kevin Little thanks JL Construction for going above and beyond the call of duty and helping deliver both parking areas – a combined 5000 square feet – by the deadline.
Piner-Olivet Union School District. We've had a busy summer in western Santa Rosa, where we've been working on a variety of projects. From landscaping to marquee work and adding fresh coats of paint to structures throughout the district, we completed all $650,000 worth of work well in time to welcome back students and staff. Melanie Griffiths, who oversaw this effort in addition to the Calistoga work, wants to thank Jennifer Gibb, our new director of business development, who jumped in to help with last-minute details on behalf of this district. At VPCS, it takes a village!
August 25, 2022