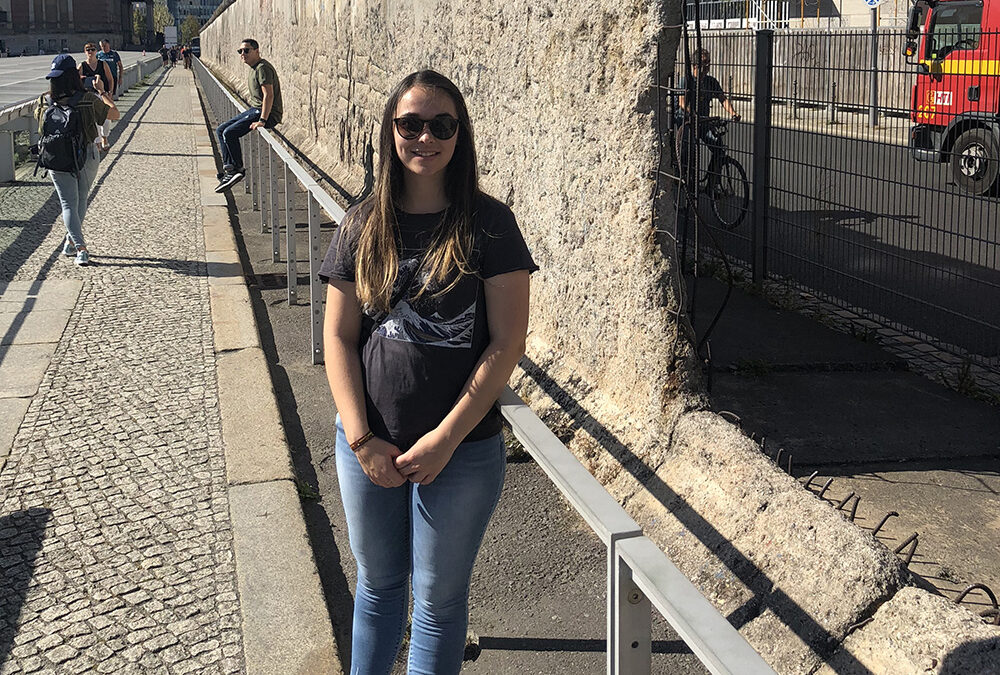 Project Manager Jennifer Kerr, who joined the VPCS team in 2017, brings a lot to the table, whether that table is in a conference room, a kitchen, an art studio or a foreign country. Read on to learn more about just a few of Jennifer's many skills and experiences.
Q: You hold an associate degree in architecture. Did you originally plan to pursue a career as an architectural designer?
JK: Not really. The subject has just always interested me. I took some drafting and engineering classes in high school – and also in middle school, actually – and I was good at them. So when I first enrolled in my college courses, I decided to explore architecture at that level to see if it was something I wanted to continue with. I'm glad I got that architectural education, but it wasn't going to be the right full-time profession for me.
Q: How do you use your architectural training in your work now?
JK: It's helpful to have that knowledge of what the architects on our projects have to do and some of the challenges they face so I know the right questions to ask. [Jennifer is currently part of the VPCS teams that work for the Napa Valley Unified, Calistoga Joint Unified and Berkeley Unified school districts.] My degree does seem like an advantage that I bring to the team so I'm never just stepping in blind to those technical conversations.
Q: VPCS is a family-run company. What's your family connection here?
JK: Eric [Van Pelt] is my brother-in-law; his wife, Erin, is my sister. And my brother Benjamin is also a VPCS project manager.
Q: What tactics do you use to maintain a distinction between family and work relationships?
JK: I don't think I have any tactics. I don't need any, really, because it all comes very easily. It never feels like I'm treated any differently for being a family member. Kelli [Van Pelt Jurgenson] and I frequently work together, so family topics come up in conversation all the time, of course, but we're able to separate all of it. It feels very natural; never messy. When we're at work, that's always the priority.
Q: What are some of your non-work priorities?
JK: I guess being committed to the environment is a pretty big thing in my life. I try to do my part wherever I can. You know – reducing waste, avoiding excessive buying, living a vegan lifestyle, just generally thinking about how I can reduce my impact on the planet.
Q: Is it challenging to maintain a vegan diet when you're having meals at meetings or work events?
JK: Not really. I've learned how to work around it and I'd never make a big deal about it. There's a stereotype of the annoying vegan and I really try not to be that person! So if there's a work-related potluck, for example, I'll always bring something that I can eat (and I expect other people would like too). Or if we're ordering in for a lunch meeting, I'll just ask the person who's placing the order to see if there's a vegan option. If not, I'll adapt. I really try not to impose it on everybody around me.
Q: Shifting gears, where are you in this photo?
JK: That was taken at the Berlin Wall on a trip I took in 2018 with my brother Frankie. We went all over Germany for about a week. It was my first time traveling internationally and it was an amazing experience. Our mom lived in Germany for a while when she was younger and I took four years of German language classes in high school, so I'd always wanted to go.
Q: Did you use your language skills on that trip?
JK: Yes, some. My brother had also taken high school German classes. But most people in Germany also speak English, and they know almost immediately to shift from German to English when tourists start to talk and we were happy they did that with us! But we were able to read signs and generally make our way through the trip with our little bit of German. (My high school German teacher once told our class that we had enough language training under our belts to speak at about a kindergarten level, so I had realistic expectations by the time I went!)
Q: When you're not working or traveling, what's your favorite way to spend time?
JK: I love creating art and I've always been pretty crafty. I've played around with calligraphy and watercoloring for a few years. I like to make watercolor cards and paintings for people's birthdays and other special occasions instead of buying something generic from the store. It feels more personal. I also recently decided I wanted to learn how to crochet, so I taught myself how to do that. I watched a few YouTube videos and got a book that showed the different stitches and I just kind of worked on figuring it out. When it comes to arts and crafts, I like to try a little bit of everything.
Q: That kind of versatility probably comes in handy at work too, yes?
JK: Absolutely. In this job, you have to know how to be good at a lot of different things!
February 21, 2023