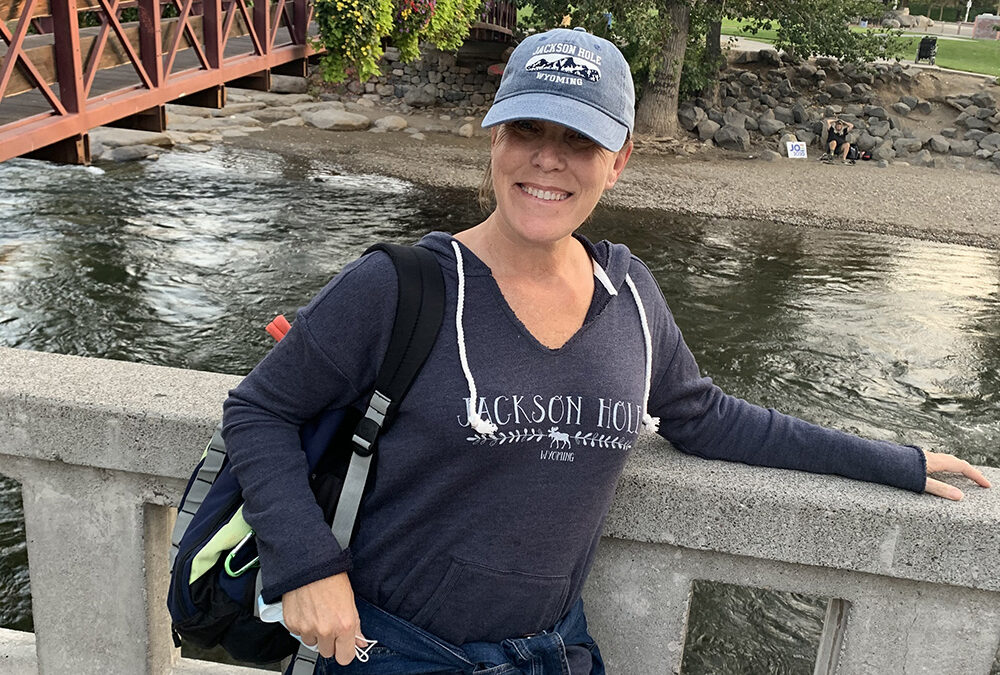 Patti Llamas' official title at Van Pelt Construction Services is project manager, although she admits her job responsibilities change all the time, depending on the demands of the work, the status of the program, and the needs of the client. In the context of the $269 million San Rafael City School District bond programs, she serves as bond operations manager. But anyone who knows Patti knows her attention to detail isn't just limited to bond accounting; she keeps a watchful eye on almost everything that comes in and goes out of the San Rafael capital facilities office. Because when Patti's involved, few things get overlooked. While these organizational skills make her great at her job, they also came in handy when she's off the clock. Here, Patti answers a few questions about how she tackles the demands of work and life.
You graduated college with a degree in literature, which studies the nuances and subtleties of language. But your job focuses on financial precision. What makes you drawn to – and good at – both of those things?

I guess it ties to the fact that I'm a bit of a perfectionist. Before I started working on this bond program, I would have told you that I hate numbers; they're just not my thing. I'm more drawn to writing. But once I found myself in this role, I discovered a new motivation that I didn't know was there. Numbers became a puzzle for me where now I have to make sure every number lines up and makes sense.  I'm actually surprised by how much I love it. At the same time, I also get to do a great deal of writing for the program too in the form of board reports. So I guess you could say this job is a win-win and lets me do both.
Would you describe yourself as a perfectionist outside of work too?
Very much so. I always say my home is my safe place, so I never leave my house in the morning without it being in order. That way, I know when I get home I can walk in and feel relaxed. My friends often make fun of me for it and it sometimes drives my husband crazy, but that's just me! I like things neat and tidy.
Tell us about the big event that your family just celebrated.
One of my daughters got married this summer. It was a really beautiful day. She's one of the three daughters in the blended family that my husband and I created when we got married seven years ago. In fact, when she got engaged last year, she said, "Mom, I want your wedding. I want to have it at the same venue, with the same food, all of it." So other than the fact that hers was twice as big, we basically just followed the same plan as what I'd done in 2014. My daughter and I organized the entire event from A to Z. It was a lot of work and worry, especially during a pandemic, but it was worth it.
With wedding planning behind you, what do you most look forward to doing as a way to unwind?
Sometimes it's nice just to come home from work and have a glass of wine and enjoy a nice meal with my husband. Plus, we live very close to open space and we both love to hike. So we often just leash up our two dogs and set out on the trails. I'm always happy when I'm out in the fresh air getting a bit of exercise and our two labs think it's the greatest!
Tell us something about you that might surprise people.
Let's see … I guess people might be surprised at all the different things that I've studied. When I was younger, I used to think I wanted to pursue a career in technical illustration. I've always loved drawing. In fact, when I was growing up in San Francisco, I took art classes at the De Young Museum. I was the youngest student in the class. But by the time I started college, I actually set my sights on the nursing program. That ended rather quickly, after I worked with my first cadaver! Then I switched to the business program but didn't find that very exciting. And that's when I moved into literature, which is where I earned by bachelor's degree. I've certainly tried a lot of things. You could say my academic history is a bit like my work with the bond program: there's a little bit of everything and most of it is related in one way or another.