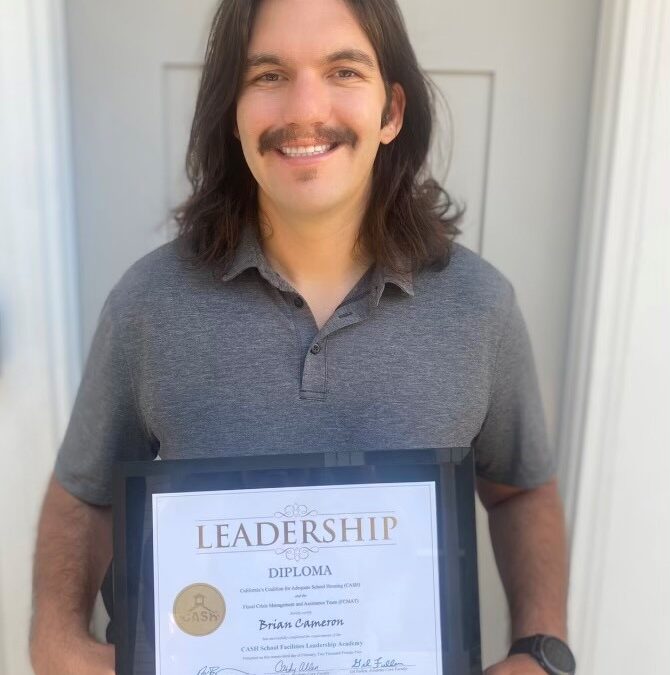 VPCS has a long and rich relationship with the Coalition for Adequate School Housing (CASH), which advocates to ensure that California's public school facilities are safe and healthy places where students can learn and thrive. For the past few years, we've strengthened our ties to CASH by sending members of our team to the CASH School Facilities Leadership Academy, a prestigious and rigorous certification program developed in partnership with the Fiscal Crisis and Management Assistance Team (FCMAT).
VPCS Project Manager Brian Cameron is the latest of our proud CASH Academy graduates. Brian recently took time out of his work with the Windsor Unified School District to speak about the Academy program and how it affected him as a school construction professional.
Q:  What impact does CASH have on California's schools?
BC:  CASH is a coalition of school district representatives, contractors, consultants and other professionals involved in the facilities side of our state's public schools. It's an organization that brings people together to share information and strategies about school construction, facilities management, planning, funding, etc. CASH puts on a conference each year and VPCS is always very involved in that.
Q:  What is the CASH School Facilities Leadership Academy?
BC:  This is a certification program that CASH puts on each year in collaboration with California's Fiscal Crisis and Management Assistance Team. It's an intensive year-long program you have to apply to. If you're lucky enough to be accepted, you attend classes with the rest of your "cohort" once a month – over a Friday and Saturday – alternating between classroom locations in Sacramento and Ontario.
Q:  When did you go through the program?
BC:  I was accepted into the cohort that began last year (in March 2021) and we finished up this spring. We were still in Covid protocols when we began, so my 50-person cohort actually started the program via Zoom. That was fine, I guess, but it was really great when we finally got to start gathering in person. It's just so much more powerful to be able to work side-by-side with people and talk shop – first, to get to know everybody, but also to hear how they've tackled some of the things that all of us in school construction deal with every day.
Q:  What types of content does the Academy cover?
BC:  It's pretty much every topic that pertains to facilities management and construction. Site acquisition, funding (including how to secure bonds), working with state agencies and that kind of thing. We also went deep into the nuts and bolt of design and construction – things like the architects' process, procurement, reviewing contracts and more.
Q:  Why was it important to you to attend the CASH Academy?
BC:  Even though I've been in this industry for a while now and I grew up in a construction family, there's always more to learn. That's part of what I love so much about construction management; I learn something new literally every day. So the Academy was a way to get an even more intense education on the kinds of things that help me do my job even better. It gave me information that can help me answer questions on behalf of the district I represent and it also taught me how to go out and find answers to trickier questions that sometimes come up.
Q:  How did the program change the way you do your job?
BC:  It's just given me such a broad perspective on every aspect of what VPCS does for our district clients. Just the other day, we were going over the idea of a master plan for the Windsor district, which is required when you go out for a bond. And I was able to draw on an Academy homework assignment that involved a detailed masterplan review, so I could really advise the district on some of the nuances of that process. Also, the Academy program required us to do a fair amount of presentations, which was a way to get better at public speaking. It turned out to be great practice for going in front of school board meetings and public gatherings – something we do all the time in our work as CMs. It's really amazing – things come up every day that relate to what I studied at the CASH Academy.
Q:  Have you stayed in touch with other members of your cohort?
BC:  Absolutely. We're a pretty tight-knit group, and that's been one of my favorite parts of this experience – building these professional relationships with people in and around districts all over California. We have an ongoing email thread, so if any kind of question comes up in the context of someone's work, they'll toss it to the group to see if somebody else in the cohort might be able to help. It's a fantastic form of networking.
Q:  You're one of two VPCS employees who have been through the Academy, is that correct?
BC:  Yes. Kelli [Van Pelt Jurgenson] went through the program before I did. It's a pretty big deal for a CM/PM firm to have not just one but two graduates of the Academy in their ranks. Plus, another member of the VPCS team is currently going through the CASH program that just started, so that'll make three of us CASH Academy graduates by this time next year … and I expect more people from VPCS will continue to apply. It's really a lot of hard work, especially given that you still have to do your regular job while also getting ready for CASH Academy weekend sessions. But it's pretty powerful to think what a difference we can make with this kind of professional education. I do believe it sets VPCS apart.
May 23, 2022