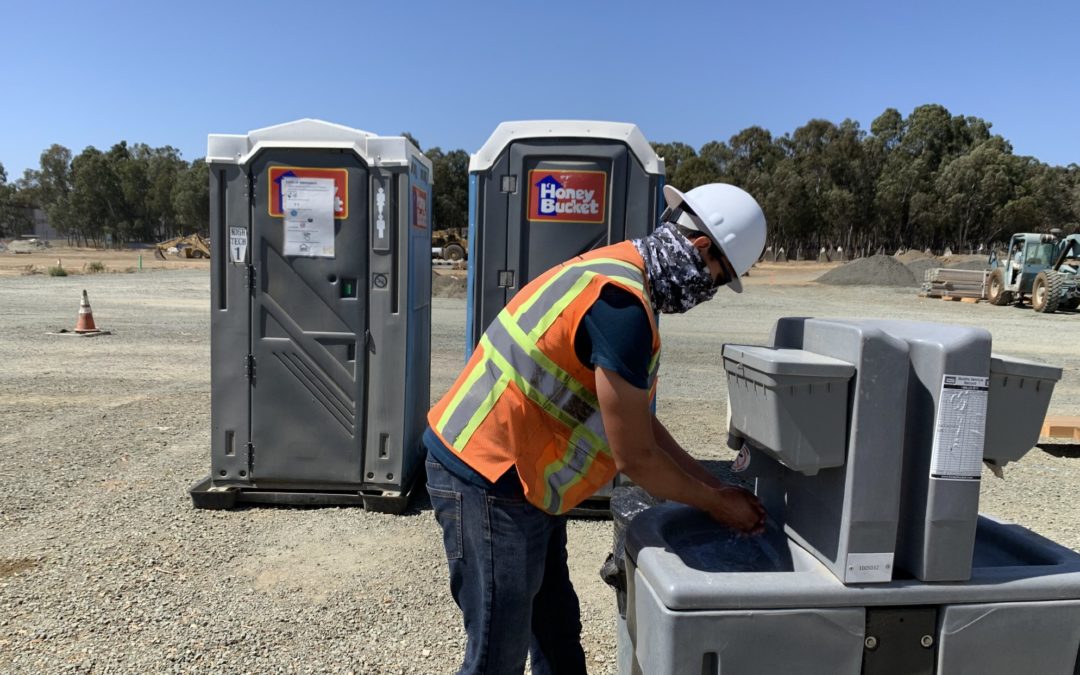 In last month's blog, we took a big-picture look at what it's been like to adjust to coronavirus-related changes in our industry. Here, we're digging into the particulars of how the pandemic has affected a single project: the all-new Napa Junction Elementary School in American Canyon, part of the Napa Valley Unified School District (NVUSD). We got the details from two people who know as much about this effort as anyone: VPCS Senior Project Manager Ray Green and Lathrop Construction Project Manager Austin Gray.
Q:  Tell us about this project.
Ray:  It's a brand new $49 million elementary school campus that will replace the existing Napa Junction Elementary, which sits less than a mile away. This project is part of the Measure H bond program, which is funding modernization and new construction efforts throughout the NVUSD. Napa Junction is set to open in the fall of 2021, and we're still on target to make that date, even with everything that's going on.
Q:  How, if at all, have California's stay-at-home orders that first went into effect in March affected the schedule for this project?
Ray:  So far, we've been able to continue without interruption. The NVUSD board took action early on. They passed a formal resolution to deem the project essential and make sure we were in compliance with state mandates.
Q:  Have you had any delays related to supplies or materials?
Austin:  When the slow-down started, we had a lot of big-ticket materials and equipment already on order – things like HVAC and electrical elements – so we saw some minor delays on those items, but nothing more than a week or two. The things we've had delivery issues with have been things like material finishes, which have been taking about a month longer than usual to get to us. We even had a manufacturer whose factory had to shut down due to a coronavirus outbreak in their facility. But our suppliers have been great about communicating with us so we know what to expect, so we've been able to work around any delays.
Q:  How have your on-site procedures changed?
Ray:  It's funny: the way we do things has changed drastically, but I think some of those changes have had a positive impact. For example, VPCS's on-site PM for this project worked remotely until we got to Phase 2, which meant that he and I would often spend hours and hours with an active virtual meeting tool open and we'd work in parallel from our separate locations. It actually gave us more access to one another and to other team members. Sometimes, if a question came up, we'd just add Austin to the meeting and he could join in from wherever he was, even from his phone if he was in the field. We've also shifted all of our weekly owner/architect/contractor meetings to virtual gatherings, which was a little strange at first but we've all gotten used to it and now I think they're very effective.
Austin:  From the general contractor's standpoint, the main difference is how we interact with our sub-contractors. We used to have weekly meetings where we'd all cram into the trailer for coordination and planning related to who's working where, who can get into what area, etc. But we can't do that now. Instead, we have one-on-ones with the subs and the foreman, and those happen in the field and not the trailer. We've also added more hand-washing stations all over the site, which is an easy way to help everybody stay safe.
Q:  Has it been hard to maintain and enforce social distancing?
Ray:  The good thing about this project is that it's nice and big – there are ten buildings on the site – so it's pretty easy for people to spread out.
Austin: Right, and we've been careful to schedule subs so they don't have to stack up on top of each other on the same part of the site in order to get the job done on time.
Q:  What COVID-inspired changes do you expect you'll keep after this is all behind us?
Ray:  We will definitely carry forward the digital meetings. They've allowed a new level of collaboration that wasn't possible before. For example, we can have the architect join a shared-screen meeting where we can pull up the drawings and we can work together to solve a design challenge with everyone's participation and buy-in. It's really effective. And people who hadn't embraced these technologies before are getting far more comfortable with them now, which is a big help. I think this is going to help bring public works projects' technology use up to a level that other industries have already been relying on for a while.
Austin:  That's true for us at Lathrop also. We had people in our office who used to be pretty against web-based meetings, but now they're on board because they can really see the value.
Q:  It sounds like things are generally going pretty smoothly, yes?
Ray:  Absolutely. All in all, we've gotten through these past few months very well. I feel good about how VPCS has continued to serve our client by maintaining as much of an on-site presence as possible, even when our PM had to work remotely and his presence was virtual. But to be clear: the contractor controls any construction site, and we're there to monitor things on behalf of the district. Here at Napa Junction, like at all of the Measure H sites, Lathrop's doing a great job. So, yes, things are going smoothly in spite of everything.