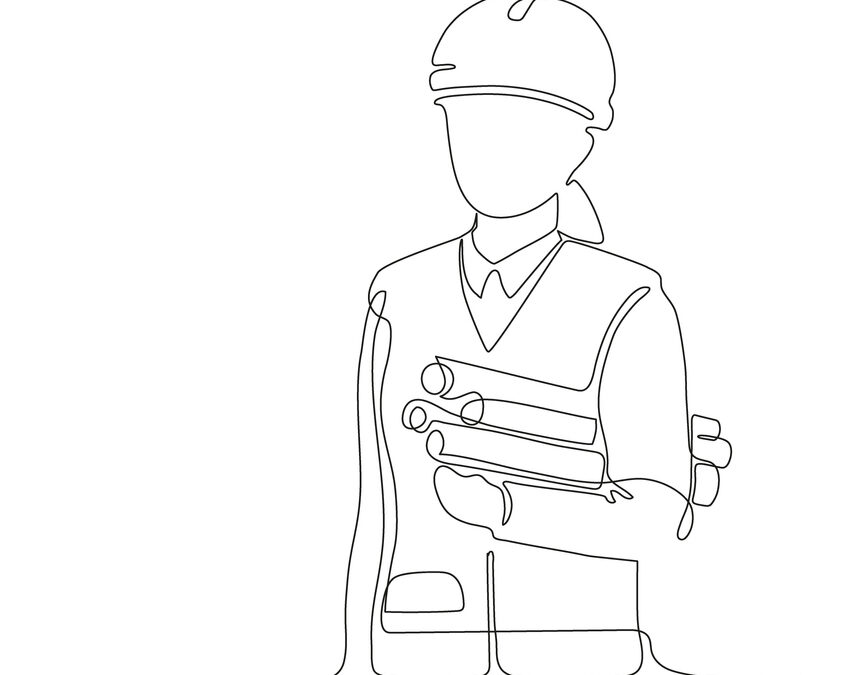 At VPCS, we pride ourselves on the diversity of perspectives that we bring to everything we do. That includes a staff with a gender mix that more closely matches the actual population and is dramatically more balanced than the industry average. (Women account for 45% of VPCS's employees, while the Bureau of Labor and Statistics report that women only represent approximately 10% of the overall construction industry workforce.)
"Construction has traditionally been a cis-male-dominated industry, but that's changing. And we're leading that change," said VPCS Vice President Kelli Van Pelt Jurgenson. "With women making up approximately half of our staff and occupying every level of our organization, we are helping disrupt the industry and change the conversation. Most importantly, it's one more way for us to deliver comprehensive and well-rounded skillsets to our clients and the communities they serve."
Kelli led a contingent of VPCS's talented female leaders at this year's Women in Construction West Coast Conference, held last week in Phoenix. We asked them to give us their insights on this topic and share their takeaways from the event. Below are the thoughtful words of Jennifer Gibb, Prachi Amin, Mary Fitzpatrick, Melanie Griffiths, Jenny Choi, Cal Walsh and Patti Llamas.
How has the role of women in the construction industry changed since you began your career?
Melanie:  In my nearly five years in this industry, I've watched women's roles get stronger but the change needs to happen faster. More women are entering the field of construction management, which has been amazing, but is it fast enough?
Cal:  This is a relatively new industry for me, and I was pleasantly surprised when I arrived at VPCS to discover so many women working here. It seems like more women are joining construction all the time.
Patti:  I've worked in the construction industry for about 18 years, initially in an executive support role and then in a program management capacity once I started here at VPCS. I see more and more women running jobs in the field. However, I'm still seeing a lot of projects where you may only see just one female on the jobsite.
Why is it important to seek gender parity in construction industry leadership?
Jennifer:  Gender parity in the construction industry is incredibly important, as is racial and socioeconomic diversity. Having a group of committed individuals who can provide different opinions, backgrounds and views on the work that we do can only help us do a better job. This is especially important in education and healthcare.
Jenny:  I believe that it is important to seek equality in general, such as with opportunities and pay, especially for the same position.
Cal:  Women bring inclusivity and communication methods that differ from men's. Women love to collaborate and bring a fresh perspective when problem-solving.
What challenges are commonly faced by women in this industry, particularly those in leadership roles?
Jennifer:  In construction, there's an outdated assumption that you have to be "strong and tough" (in other words, cis-male) to know how to build a building. Every single day, I'm judged by my appearance and encounter people who assume that because I'm a woman I don't know anything about what is needed.
Prachi: Women are sometimes deemed inferior to men in the trades and undermined in discussions. We also face sexual harassment.
Melanie: Women have to prove themselves more, while men's skills are often accepted outright. Respect should be based on ability rather than gender, race or any other factor.
Patti: There are logistical, physical and other issues that have prohibited or limited the success of women (such as lifting requirements that may be limiting, irregular working hours that are difficult for women with children to accommodate and, unfortunately, sexual harassment or bias that can come in many forms).
What can construction companies do to help elevate women from administrative to leadership roles?
Jennifer: I believe everyone, no matter their gender, should start at the bottom and work their way up. Giving employees the opportunity to see their career path or potential areas of growth and then discussing those openly allows all genders to know that they are important to the company involvement and growth.
Mary:  Support and educate!
Jenny: It's important for employers to engage with employees on their goals and interests to help them reach their full potential. It can be difficult for women to be upfront about what we want.
Cal:  Promoting from within and actively recruiting women from colleges (and even at the high school level) with internships.
Why should men also engage in the effort to expand women's impact within the industry?
Melanie:  Some men in this industry stand by and observe how others treat women and yet they don't always speak up. That's just never been a concern at VPCS. People are recognized for the skills we can contribute regardless of gender. My co-workers foster and encourage me.
Cal:  Men engaging with women in a collaborative way promotes company camaraderie and future success.
Patti:  Women have historically been considered disruptive to male-dominated workforce. Men need to engage so they'll become part of the solution in educating and wholly supporting the inclusion of women in construction.
VPCS's employee roster is approximately 45% female. How does that help the company better serve its clients? How does it set the company apart?
Prachi:  We are better able to relate to issues faced by our female clients who are in leadership positions.
Mary: Everyone feels comfortable. Since we don't have to worry about discrimination, we can focus on doing our jobs well.
Melanie:  I am so proud that VPCS is such an amazingly diverse company. We are intelligent, capable and talented together and each individual brings something different that helps serve our clients.
Patti:  VPCS serves as an example to our clients that we are serious about building programs that are inclusive.
Of all the sessions and conversations you participated in at the Phoenix conference, what takeaway stands out?
Jennifer:  Connecting with fellow VPCS team members was my highlight of the conference.
Prachi:  That women at every level, from the trades to corporate positions, face discrimination.
Mary:  I kept hearing presenters talking about the importance of being well versed in the industry, which is something I take very seriously – always researching a topic before joining any meeting.
Cal:   Three main takeaways: 1) Connect with a strong mentor. 2) Know your stuff. 3) Don't be afraid to advocate for yourself.
Patti:  Take your seat at the table. Be prepared and speak up in meetings. Own what you know. Be confident! Be someone others want to work with. Find a mentor AND be a mentor.
Why is it important for VPCS's female leaders to attend gatherings such as this?
Prachi:  These events offer opportunities for networking, as well as discussions about diverse approaches to the challenges we all face. It's also a chance to show our support for the younger women joining the industry.
Melanie:  It was eye-opening to be there with the women from VPCS; together, we gained insights, information and techniques that will only make us stronger as individuals and therefore stronger as a team so we can contribute to the greater VPCS partnerships.
Jenny:  It helps create a safe space to connect and review methods on how we can grow together.
Any other insights you'd like to add?
Jennifer:  We have a great team and many very talented women who work for our organization, and none of that would be possible without the wonderful leadership at VPCS.
Melanie: I appreciated learning about techniques to help each of us find our voice and speak up to advocate for ourselves.
Cal: The construction industry has many exciting opportunities for women and I am thrilled to be a part of it!
April 26, 2023